Doom - Brutal Doom [20b] (2016) PC
The development of the Doom - Brutal Doom mod was started back in 2010. Since then, several prestigious awards have been received among the mods for games. This mod takes the game to a whole new level. The game has become even more violent and bloody. Added new animations of enemies' death, dismemberment, head shots. The rendering of fire and explosions has been improved, new shadows have been drawn for all objects, and much more.
A new level of interactivity
Here is just an incomplete list of changes and corrections made, the whole world of the game as a whole has become more realistic and interactive, namely:
The whole world of the game as a whole has become more realistic and interactive. You can kick limbs and heads that have come off your enemies. Use them to pass dangerous traps, throwing them on the activation buttons or even throwing them at monsters causing damage.
A system of headshots has been worked out, which allows you to inflict much greater damage to monsters and, of course, deal with all these evil spirits more effectively.
The vast majority of objects in the course of the mission can be destroyed by you (trees, lamps, suspended bodies, etc.).
You have the opportunity to stain the walls, floor and even the ceiling with the blood of monsters, of which there will be whole hordes.
Challenge new rivals
Not only the external component of the game has changed, but also its mechanics as a whole, which makes it possible to get a new gaming experience. The main differences from the original game:
there are explosive barrels on the levels that can be moved by creating traps or just pick it up and throw it like a grenade into a crowd of evil spirits;
it is now possible to complete levels in stealth, instantly and silently killing unsuspecting monsters from the back;
a chainsaw, of course, will help to divide everyone into equal halves;
when the berserker tool gets into the hands of the hero, he will be able to tear enemies with his bare hands;
the enemies could now get scared and start retreating, sensing an imminent death. They learned to use the bodies of the dead as a shield. And there are many, many more innovations in the latest version that is in front of you.
All the foes have become stronger, smarter, their terrible roar is louder, and the speed is higher. But the ability to give a kick to anyone who got too close will help to win more than one glorio
Download the game torrent
Download Doom - Brutal Doom [20b] (2016) PC in Russian with a cracked game for PC , without viruses and SMS, you can follow the link below.

Connections: download /
distribute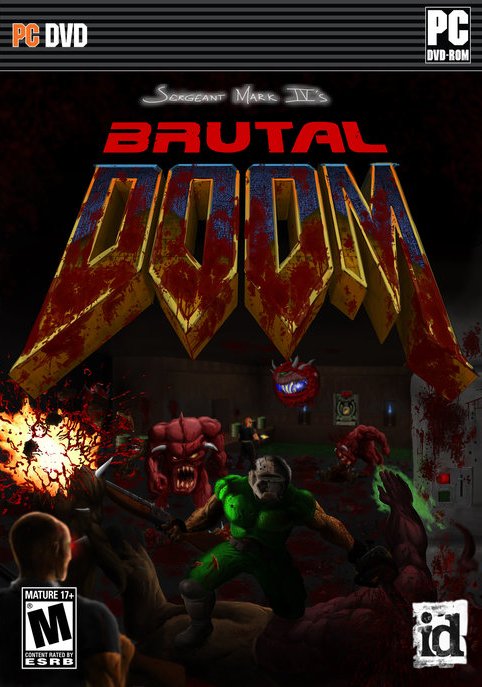 v20b
Publisher:
GT Interactive
Interface:
Русский + английский
Similar torrent files
You can view similar giveaways: