Just Cause 3 XL Edition v1.05 + DLC (2015) PC
Prior to the release of Just Cause 3, Avalanche Studios was known for only a few projects set in the open world. The presented shooter, which was released in December 2015 and immediately received many positive reviews both in the gaming press and deserved laudatory reviews from ordinary gamers, is no exception.
Gameplay Features
The main character named Rico Rodriguez will have to perform many interesting tasks, including blowing up prisons, military bases, storming police stations, shopping marinas. He alone will have to resist the military dictatorship established on the paradise island of Medici in the middle of the ocean. The main antagonist is General Di Ravello. The interesting features of the gameplay should include:
Open world. It is possible to hover over rocks, explore the seabed, move between objects in any order.
The total area of the territory is more than 400 square miles.
To reduce the influence of Di Ravello, it is necessary to destroy propaganda objects.
A huge arsenal of weapons. Including a pistol, a modified Kalashnikov assault rifle, a grenade launcher. Unlike other games in the series – an unlimited number.
Original equipment: parachute, climbing cat, wing suit, multi-ropes, improved hook, and others.
It is also worth noting the excellent visual and sound component of the game. Paradise Island is drawn colorfully and beautifully, equipment, game objects, faces and movements seem realistic. Just Cause 3 occupies a worthy place among the game fighters of the last few years.
Add-ons Just Cause 3
This version of the game includes all the officially released additions to Just Cause 3. Such as: Sky Fortress Pack, Kousavá Rifle, Mech Land Assault Pack, Combat Buggy, and others. They significantly expand the game universe, and allow you to plunge into it, which is called "with your head". A lot of new story quests, game characters, and adventures with the use of modern weapons and equipment – what else do you need, do not d
Download the game torrent
Download Just Cause 3 XL Edition v1.05 + DLC (2015) PC in Russian with a cracked game for PC , without viruses and SMS, you can follow the link below.

Connections: download /
distribute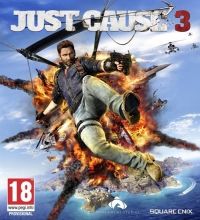 1.05
18+
Publisher:
Avalanche Studios
Similar torrent files
You can view similar giveaways: