PC Building Simulator 2
PC Building Simulator 2 - a fascinating simulator in which users will have the opportunity to become the owner of their own workshop, where the repair and assembly of personal computers.
Review
The game boasts a very deep and realistic simulation of working with computer parts, as well as an elaborate career, which is quite uncharacteristic for the genre. At the beginning the user gets a small building and only a basic set of tools with which to disassemble and repair monoblocks.
The task of the user is to increase the prestige of his enterprise, to buy expensive equipment and machinery with which you can build the PC of his dreams. 
Gameplay
Among the main gameplay features of the PC Builder Simulator 2 should be noted:
The user can interact with more than 1,200 parts, all of which are licensed.
Parts from 40 official manufacturers are present.
Realistic mechanics of interacting with the components, which is almost the same as what happens in the real world, for example, in order to fix the video card will have to use a soldering iron to connect the contacts, personally apply thermal paste and much more.
The ability to turn your PC into a real work of art thanks to backlighting, water cooling, a beautiful case and so on.
Download the game torrent
Download PC Building Simulator 2 in Russian with a cracked game for РС , without viruses and SMS, you can follow the link below.

Connections: download /
distribute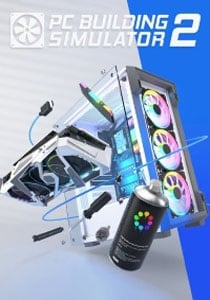 1.00.30
12+
Publisher:
Spiral House Ltd
Similar torrent files
You can view similar giveaways: