Chef Life: A Restaurant Simulator
Chef Life: A Restaurant Simulator is one of the most beautiful and realistic video games in the genre of culinary simulation, which allows not only to prepare dishes from the menu, but also to manage the staff and the financial affairs of the establishment.
Review
Before the passage begins, the user has the opportunity to customize the appearance of his character to the details, choose his gender, hairstyle, skin color and more. Then the user immediately goes to a small restaurant, of which so far very little is known in the city.
The task of the protagonist is to turn this small establishment into a Michelin-starred restaurant. This is an extremely difficult goal and its implementation will require a lot of skill and patience, because life in a professional kitchen is always associated with scandals and other tense situations. 
Gameplay
Among the main gameplay features of the culinary simulator Chef Life: A Restaurant Simulator you should note:
Very realistic gameplay, which will require the gamer to have certain culinary skills - the user will have to not only cook, but also serve dishes himself, moving small ingredients so that the finished product is not just tasty, but also looks like a masterpiece.
There is an impressive variety of menu items from different cuisines of the world, including international, Italian and French.
The opportunity to interact with the most expensive and valuable products in the world, including delicacies like lobster, scallops and so on.
The need to oversee the actions of staff, from cleaners and cooks to waiters.
It is important to meet all the demands of the visitors and especially the food critics, who will give the opportunity to get Michelin stars.
Download the game torrent
Download Chef Life: A Restaurant Simulator in Russian with a cracked game for РС , without viruses and SMS, you can follow the link below.

Connections: download /
distribute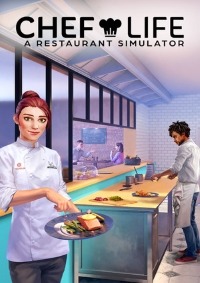 1.0
12+
Publisher:
Cyanide Studio
Similar torrent files
You can view similar giveaways: