Vin Diesel. Wheelman (2009) PC | RePack by R.G. Mechanics
All the events of the game unfold in Barcelona. There is only one law here – force. The main character of the game is a young man named Milo Berik. He works as a professional driver and is also an undercover agent.  Vin Diesel voiced the hero, however, he also gave the appearance to the main character of the game.
Milo Berik's main task is to infiltrate criminal groups, become one of them and gain the trust of bandits. As the game progresses, the user will have to cooperate with various criminal gangs, learn their secrets and secrets. The main character will have to prevent the largest embezzlement of funds in Spain. Not every criminal can rob a bank, so Milo will have to break his head in search of the main antagonist.
Game Features:
the player can dispose of a huge number of cars, motorcycles. The user is expected to have amazing chases, from which the heart sinks into the heels;
During the race, the player can even perform various tricks – acceleration, ramming, hijacking on the move, shooting and even "Cyclone";
using special skills is not easy, you will need to accumulate a sufficient amount of "Attention". Points can be obtained during jumps, at high speeds;
there is also a walking mode. The user has the opportunity to wander around the city on foot, use firearms and explore the local beauty;
the user can choose from only two types of weapons: a pistol in which the cartridges do not run out and a replaceable weapon.
Interesting moments in the game:
There are no graphics settings.
The hero does not know how to jump and swim.
One hundred lion statues can be seen around the city. They can be destroyed, and in return you will receive a bonus.
The numbers of the cars in the game are the encoded names of the developer's previous games.
A total of 50 places can be visited in the city. If you perform tricks there, then a bonus will also be given to you.
You can see that Midway posters are scattered in the town.
If you are gaining 5 crime stars, then you will not be able to escape from the police.
Help Milo catch a criminal gang before innocent people get hurt. Uncover all the secrets of the criminal world. Complete additional tasks to get valuable bonuses and rewards for your efforts. Become a hero! In the game, each user will be able to have fun, drive cars, shoot and uncover criminal intentions. Didn't you imagine yourself to be the savior of people? Now you
Download the game torrent
Download Vin Diesel. Wheelman (2009) PC | RePack by R.G. Mechanics in Russian with a cracked game for PC , without viruses and SMS, you can follow the link below.

Connections: download /
distribute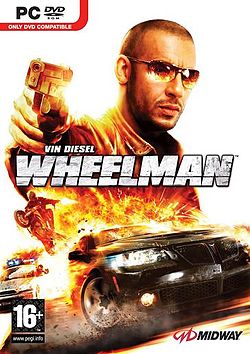 16+
Similar torrent files
You can view similar giveaways: